Synaptic has recently completed a strategic project to design and launch Risk Explorer, the first of a series of a new generation of research and due diligence tools. The full research suite which includes R.I.Y. calculations, ex-ante and ex-post illustrations will be complete in 2021, allowing an overhaul of the UK's broadest independent research proposition for advisers. Risk Explorer brings together risk profiling, asset allocation and financial planning for advisers in a way that can dramatically improve the delivery of advice to clients.

Risk Explorer allows firms full access to the asset allocation model and stochastic projections from Moody's Analytics (Wealth Scenario Generator) as standard. Firms can now build investment strategies and manage investment risk with market-leading research, previously only available to institutional investors.
Legacy research systems have become increasingly problematic since the increased emphasis on suitability and disclosure – brought about by MiFID II (and its offspring PROD). Synaptic brings to market the first of a new generation of tools designed specifically with MiFID II in mind, addressing the specific challenges brought about by more rigorous research and transparency expected from practitioners, as well as the identification of client types and target markets within research context.
A changing industry
In FCA TR 16/1 (2016's regulatory Thematic Review), the FCA identified poor research and due diligence as the chief culprit in the formulation of poor advice outcomes. In delivering full access to Moody's market-leading stochastic forecasting engine in a new package, Synaptic is reasserting the importance of the role of research, enabling firms to build a repeatable advice process that offers clients the very best possible outcomes, and the opportunity for firms to increase efficiency and quality. This is especially important given the trend towards larger groups of advisers working within larger organisations.
The raising of professional standards within our industry is increasingly reliant on technology to deliver value by standardising processes and sharing data. Firms should always look to review the use of legacy tools and archaic processes, and consider what the leading modern research packages can deliver.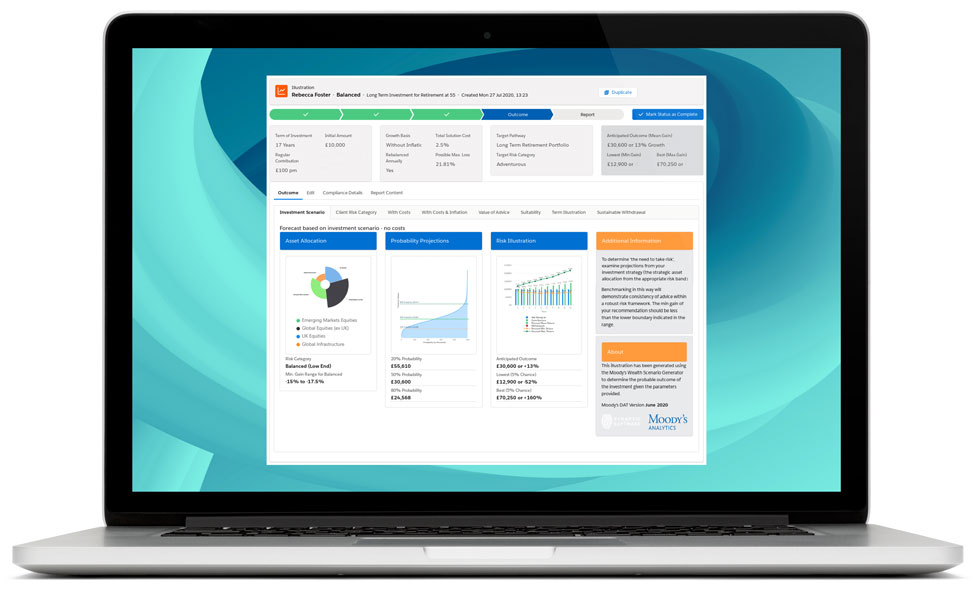 Powerful research and investment insight. The screenshot shows projections from an investment scenario configured in Synaptic Risk Explorer. This adviser can go on to explore 'what if' scenarios that test different investment risk options, investment horizons, even looking at 'sustainable withdrawal rate' analysis. Next steps to the snapshot offered include the ability to assess the impact of costs and charges and inflation on the investment scenario.
Risk Explorer is available via Salesforce® AppExchange
Risk Explorer is setting a new bar for independent, UK-based, professional advisory research tools. Foremost is its capability of producing MiFID II quality reporting and illustrations, with access to data from the full range of advised platforms and portfolios. Risk Explorer is the first of Synaptic applications built on the Salesforce platform™ and is now also available from the Salesforce® AppExchange.
Technologically advanced
The Synaptic Research proposition comes with: a client module, storage area for investments holdings and assets data for use in research journeys; access to all the product, platform, costs and charges and product governance data in one secure, state-of-the art environment. Synaptic's aim is to ensure that all customers, irrespective of which CRM or back-office system they use, can easily share data with the new suite of Synaptic research tools (and vice versa).
To feed into the sophisticated risk modelling capabilities of Risk Explorer, advisers may issue ATRQs to clients remotely and securely, which can be completed on any device and retrieved automatically.
Updates to the software are developed and delivered automatically. All onboarding, licensing, permissions and, most importantly, security are all standard as part of a cloud-based platform that is proven in helping thousands of companies of all sizes succeed and grow.
It comes down to suitability and the role of the adviser
In addition to leaping over the hurdles set up by an ever vigilant and demanding regulator, the need for increasingly sophisticated reports and illustrations for clients is growing. The kind of illustrations offered by Risk Explorer deliver more reliable and meaningful projections of investment outcomes than previously available.
A client's financial plan relates to the investment recommendations within it, via the regulatory concept of suitability. It isn't the investment that's suitable per se; the investment recommendation is suitable depending on its ability to deliver on the stated goals within a plan, and decisions around risk, including expected returns, proof of suitability, all depend on accurate illustrations, where the likely outcome of an investment strategy is known. Few firms will have the resources to produce the kind of expert research and mathematical modelling accessible from Moody' Analytics via Synaptic, making the contribution made by Risk Explorer invaluable.
Because there is a lot at stake for an adviser and a customer in the formulation of advice, it is prudent to rely on the stochastic forecasting offered by Moody's Analytics, the market leader. Taking on risk is necessary to deliver the investment returns required by customers, and the role of risk is best explained and managed using Moody's projections. The latter are probability-based and under constant revision. Experience over many years shows us that the expected returns on asset classes and forecasts of market conditions that the model gives us, have been exceptionally reliable, including through the Great Financial Crisis of 2008. Advisers and investors aligned to the Moody's model have enjoyed the kind of controlled and measured outcomes that are essential to maintaining the trust of clients – ensuring that they are comfortable with their level of exposure to risk, confident of the attainment of the goals they have agreed with their advisers, and are likely to remain invested for the term of their investment.
Download the Synaptic Risk report
Though fundamental to good advice, there are several key reasons why risk is one of the most difficult areas of financial advice to get right. Synaptic has produced a 'Guide to Risk – What you need to know about risk and using risk profiling and asset allocation tools', addressing over 30 key points relating to the use of tools and asset allocation as the basis of maintaining an investment strategy in firms.
Sign up for updates
Keep up to speed with everything you need to know each quarter, by email or post.