There is no doubt, 2020 was the year video went mainstream for every home and business.

Out of necessity, governments, corporates, partnerships, and individuals, across the globe, moved to work – from – home and with it, video on demand and live video conferencing.
But is this a 'one-year aberration' or has the game changed?
For this author, I can say it's more than a flash-in-the-pan, I believe this is a permanent change in the way we work. In March 2020, I knew little of Zoom and other applications, and couldn't imagine a meeting by video, let alone a half-day conference. I have been an advocate for Asset TV training videos for years, not least because it is the most efficient way to meet my CPD requirements. However, I clung to the view that in-person was essential for the main bulk of learning, and that video was the top-up supplement.
Coming into 2021 my views have changed. Sure, I can see the shortcomings of communicating through a computer screen, but for convenience, control, diary planning and reduced travel, video is front and centre as a core part of my business, with in-person being the supplement – a complete 180-degree turnaround.
I am not alone with this thinking. In 2020, over 20,000 advisers chose to use Asset TV (expert research and training videos) for their CPD accreditation; watching long-form training-videos and Masterclass presentations. This isn't a one-off, the numbers have been growing year-on-year, for seven years.
If the huge shift is to have a lasting effect and remain a core part of everyone's workflow, there needs to be a universal adoption across the industry. Zoom was downloaded 2.13 million times on March the 23rd, the day lockdown was announced in the UK, but will everyone stick with it? Will companies carry on investing in good video content, to replace half-hearted roadshows and turgid training sessions?
To get the answers, we can draw on the latest industry research published by Asset TV, taking the pulse of the UK adviser and institutional market, in Q4 2020. There are some pretty good indicators that the adviser market has already changed and is ready for more.
In the research, respondents say their business practices have transformed over that past year. When it comes to video on demand, some 90% gave video their backing, with more than half logging in weekly for over 30 minutes, to supplement strategy validation and research. One respondent commented, "Lockdown has made it a much more important source of information and training."
Even in conferencing, where in-person arguably works best, 75% of respondents are ready to move to virtual conferencing, commenting that virtual conferences delivered "hassle-free, on-demand, no cost, no travelling."
Another clear guide to the future comes through in the way advisers intend to build video into their customer communications. Right now, 55% of firms are already producing and sharing videos with their customers, but 65% anticipate a move to video communications in the next 12 months. This is surely a sign that video is becoming embedded into the industry.
Finally, the survey asks a key question. "Which form of communication do you prefer and trust?"
For years the majority of advisers have unequivocally replied, "Face to face meetings with fund managers and company reps." But now, in 2021, 'meeting a manager' or 'meeting a sales rep' are relegated to 7th and 9th place respectively, with 'research and training videos', 'fund manager interviews' and 'live events', taking the top slots.

It is clear advisers are on board, but will product provider companies and asset managers shift their marketing spend from 'hotel catering' to good quality video content?
I would say yes. In 2019, 121 UK companies produced videos to host on Asset TV. In 2020, that number had increased to 152. Asset TV currently hosts over 1,000 videos, streaming the shared wisdom and thought leadership of some 1,293 speakers from 452 companies. Going into 2021 these numbers are set to increase as more companies embrace video. Close to home, Synaptic has kicked off that trend with the latest video series it is producing, 'Investment Reels1'.
'Investment Reels' covers everything to do with risk management, with each video session looking in detail at risk models, investment styles and solutions – combined with a theme, such as: ESG, CIP, regulation, creating business value, client propositions, or retirement income.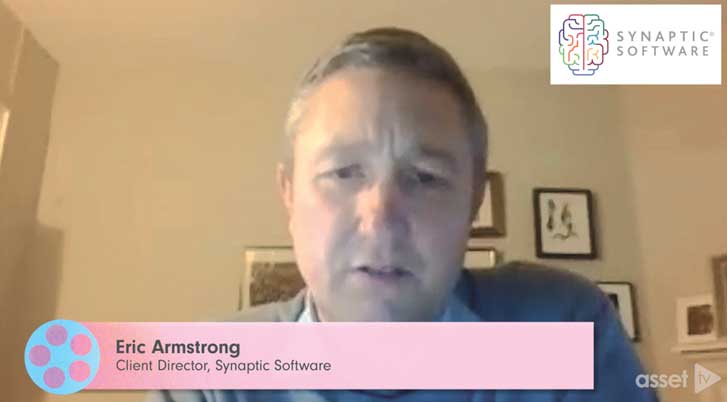 With all the options available why did Synaptic opt for a video format?
The video format helps put across detailed, and often complex, information quickly. And the ability to stop and start allows the viewer to recap.
Information is kept consistent, and available to all at the same time.
Advisers can immediately integrate their viewing into CPD accreditation.
In 2020, we saw some big changes to the way we all use video and much of that change will be permanent. Here are my predictions for how video will impact all businesses in 2021:
On-demand videos for research and learning – with longer durations – will be increasingly issued by firms to replace workshops and training days. Audiences will not tolerate low quality, so I envisage companies investing in high-quality presentations.
Virtual events will become an established part of business but won't replace in-person conferences. A lot of companies are investing in virtual events, either pre-recorded or live, and I believe we will see this trend hold. However, I don't think they will replace the in-person events that we are used to. When conferences come back (probably in Q4 2021), they are going to be bigger than ever – but they have an online hybrid element. Virtual events have attracted new audiences, which no company wants to lose.
Finally, I believe adviser firms will increasingly develop their consumer-facing distribution channels for video and audio. This is part of a trend to build deeper relationships with customers and maximise the efficiencies delivered by digital technologies.
The conclusion? Video has come of age and every adviser should think of it as their new best friend.
Should your fund business wish to participate in a future Synaptic Investment Reels broadcast, or to access video content for promotion or CPD, please contact hello@synaptic.co.uk for more details.
Sign up for updates
Keep up to speed with everything you need to know each quarter, by email or post.